Meet The Doctors at Spinal Health & Wellness Center
Dr. Kianoosh Ziayan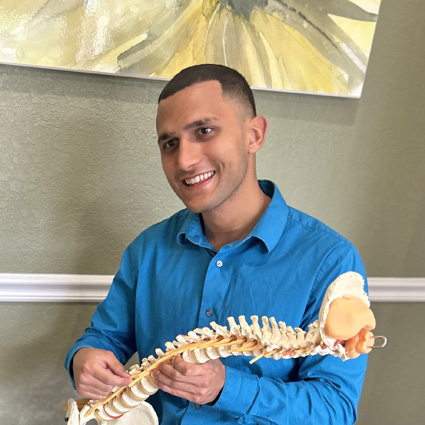 Dr. Kianoosh Ziayan, known as Dr. Z, was born in Tehran, Iran, and moved to the United States with his family at the age of 10. His parents were determined to provide greater opportunities for their child, and they chose to settle in Worcester, Massachusetts. Dr. Z embraced his new life in the U.S. and began his academic journey at the University of Massachusetts Amherst, where he initially pursued a major in Computer Science with the goal of becoming a game designer.
A Chiropractic Journey
However, during his freshman year, Dr. Z was diagnosed with thyroid cancer, which led him to delve into the world of health and fitness. After discovering the powerful impact of proper nutrition and an active lifestyle on overall well-being, Dr. Z shifted his focus and earned a Bachelor's degree in Kinesiology.
To further enhance his progress in the gym, Dr. Z sought chiropractic care and was amazed by its efficiency and efficacy in diagnosing and treating various issues he had struggled with for years. This experience inspired him to join the chiropractic profession, and he became a part-time personal trainer while completing his Doctorate of Chiropractic at Logan University.
During his time at Logan, Dr. Z was accepted into an internship program at Scott Air Force Base in Illinois as part of the 375th Medical Group under Dr. Charles Portwood. This unique opportunity allowed Dr. Z to work alongside a variety of medical professionals, providing treatment for active duty military members from all branches of the military. This experience further solidified Dr. Z's passion for chiropractic care and honed his skills in the field.
Read More About Dr. Kianoosh Ziayan »
Upon graduation, Dr. Z practiced in New Jersey, where he gained valuable experience working with a diverse patient population. His dedication to providing the best possible care led him to continue refining his skills and expanding his knowledge base.
Dr. Z then moved to the Sunshine State, where he found a new home at a chiropractic clinic. His patients appreciate his warm demeanor, professionalism, and genuine commitment to their health and well-being.
With a focus on sports injuries, soft tissue release, and chronic conditions, Dr. Z has been able to help countless individuals improve their quality of life through chiropractic care.
Outside the Office
Dr. Z's personal interests and hobbies reflect his dedication to an active and healthy lifestyle. He enjoys weight lifting, biking, surfing, and spending time at the beach. He also loves traveling and exploring new places, often accompanied by his wife, Dr. Magi, who is also a chiropractor. Together, they share a passion for helping others and a commitment to lifelong learning in their profession.
One of Dr. Z's most memorable experiences was his honeymoon trip to Africa in 2022. During this trip, he had the opportunity to visit native tribes and observe a wide range of wildlife. This experience not only allowed him to appreciate the comforts he had taken for granted but also reminded him of the vastness and diversity of the world.
Driven by his own personal experiences and a passion for helping others, Dr. Z continues to strive for excellence in his practice. His goal is not only to help his patients recover from musculoskeletal issues but also to optimize their overall health and function. Dr. Z's dedication, expertise, and compassionate approach make him a trusted and valued member of the chiropractic community.

Dr. Magdolen Ziayan
A Chiropractic Calling
Dr. Magdolen Ziayan, affectionately known as Dr. Magi, discovered her passion for chiropractic care at the age of 13, following her first chiropractic adjustment. While exploring various treatment options, Dr. Magi was captivated by the chiropractor who effectively understood and addressed her needs. Overwhelmed by the positive impact, she told her mother, "I want to be her when I grow up, she's a witch doctor!"
This experience ignited her desire to become a chiropractor, a skilled professional who could make a profound difference in healing others through the power of chiropractic care, which seemed almost magical to her younger self.
Throughout her career, Dr. Magi has experienced numerous rewarding moments, one of which includes helping a non-verbal 6-year-old speak their first word, "juice," after receiving chiropractic care focused on the nervous system. This heartwarming success story is a testament to the transformative power of chiropractic treatment and the positive, life-changing impact it can have on patients' lives. Dr. Magi firmly believes that all lives can reach their full potential, through the power of thought, wholesome nutrition, and chiropractic adjustments.
Dr. Magi's ultimate vision for her
joint practice
with Dr. Z is to create a welcoming, holistic environment that nurtures both physical and emotional well-being. She envisions an ideal practice to be where friends and family could receive adjustments free of the imprisonment of four walls and a ceiling. Outside under the sun, connected to the earth, breathing fresh air, the way we were designed to live and heal.
Read more about Dr. Magi Ziayan »
Outside the Office
Outside of her professional life, Dr. Magi enjoys staying active with her husband Dr. Z. They both love working out and spending time outdoors, whether it's at the beach or by the pool. Additionally, Dr. Magi has a passion for trying new recipes, which allows her to combine her love for good food with her commitment to promoting a healthy lifestyle.
Dr. Magi's neurological approach to patient care, deep understanding of chiropractic treatment, and dedication to continued learning make her a trusted practitioner within the chiropractic field. Her unwavering commitment to improving the lives and changing the mindsets of her patients for the better sets her apart and ensures a bright future for her practice alongside Dr. Z.
---
Meet The Doctors at Spinal Health & Wellness Center | (772) 223 9597